New Product Announcement: SignalFire Ranger
Introducing SignalFire Ranger – IoT Cellular Transmitter
The SignalFire Ranger is an IoT (internet of things) cellular transmitter using the latest LTE CAT M1 technology for sensors and fully integrated with SignalFire's cloud monitoring and alarming services.
The Ranger has two (2) digital inputs, one (1) analog input and one (1) relay output. The digital inputs can detect on/off status or frequencies up to 2kHz. The analog input can be set to 1-5Vdc or 4-20mA and powered by the built-in battery pack. The relay output is a single pole double throw capable of loads up to 2A @ 30Vdc. 0.3A @110Vac or 0.5A @ 125Vac.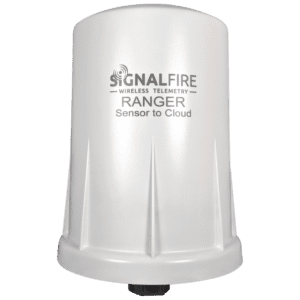 The Ranger comes complete with the mobile device ready SignalFire cloud interface to monitor, trend and get alarms either by text or email message. In addition, the cloud platform provides for remote configuration and troubleshooting of the Ranger node and its attached sensor(s). It is also possible to turn on/off the relay output from the cloud interface to remotely control pumps, motors, valves.
SignalFire Ranger – From Sensor to Cloud